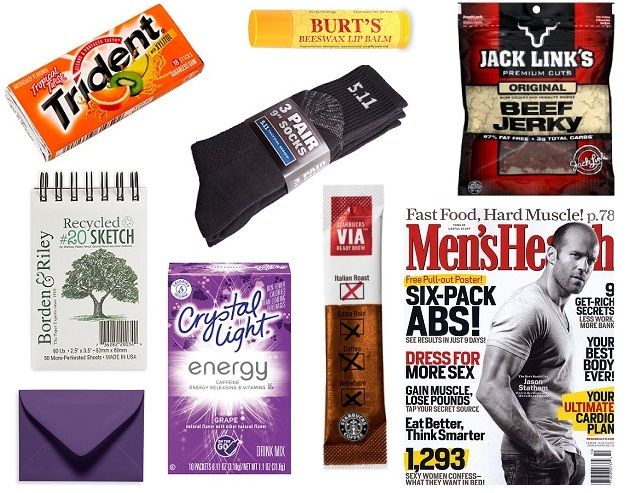 With Matt on deployment I am back in care-package-building mode. I developed a reputation during his last deployment as one of the best senders of packages, so I am passing my ideas onto my fellow military spouses and significant others!
For a "just because" package, you'll want to send him things that he will have probably used up or will be in want of. Remember that he will likely have limited storage space -- especially if he's on a ship -- so buying anything in bulk isn't practical. Some things that I frequently ship to Matt while he's out are:
- Gum (for chewing while on watch)
-Burt's Bees lip balm (his favorite)
- Beef jerky (no-brainer)
- Socks (he burned through a few pairs last deployment)
- Crystal Light drink powders (for not-so-tasty water)
- Magazines (if I have time I read them and leave notes in them)
- Hand-written notes and cards (I'm cheesy, I spray them with perfume!)
Think about things that your guy likes, too. The next package I'm sending him will have a mini sketch pad so he can doodle, he tells me all the time that he wants to get back into drawing. At the end of the day, your guy (or girl!) is just going to be happy to be receiving a package.
----------------------------------------------------------------------
- Pick up FPO/APO flat rate boxes from the post office, or have them shipped to you for free. You can load them with up to 75 pounds of stuff and you'll only pay $12.65 to ship it, no matter how much stuff is in it!
- Grab a bunch of customs forms the next time you're at the post office so that you can have them filled out and ready before you take your package in for shipping.
- Double, triple and quadruple tape your box, just to keep it safe for what could be a long journey.
- Pack your stuff snugly to keep if from moving around too much during the trip.
----------------------------------------------------------------------
Oh, and if you're shipping something for a special occasion, like a birthday or holiday, try to get it in the mail about a month ahead of time to ensure it reaches your recipient on time.
Feel free to share any tips or ideas you have for deployment care packages!