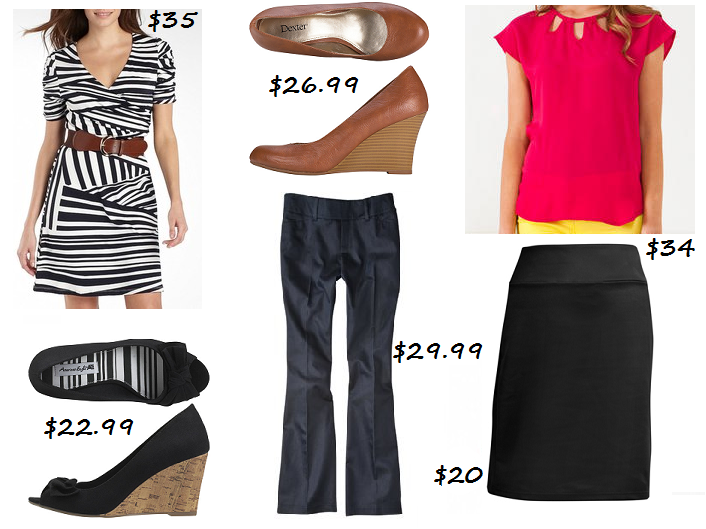 striped dress - JC Penney (buy)
American Eagle wedges - Payless (buy)
Dexter wedges - Payless (buy)
Mossimo chambray pants - Target (buy)
Crystal Cutouts top - Francescas (buy)
black pencil skirt - I found mine at Marshalls for under $20 (buy similar)
My good friend Ali challenged me to help her add to her professional wardrobe with separates for around $150. Since I'm always down for a shopping trip -- even if it's just virtual -- I got to work right away!
What I have slowly learned with my own work wardrobe is that pieces can often be worn in more ways than one. Shirts can be tucked or untucked, layered over a colorful cami or under a cardigan or blazer. Dresses can be belted, tucked into a skirt, worn under a cardigan or blazer, and sometimes even tucked into pants. Just a different belt and pair of shoes can make an outfit look entirely different, so with a little creativity you can actually make your wardrobe go further than you think.
For Ali I picked basics that can be mixed and matched with one another, and that will also be easy to pair with future purchases. I went a little over the $150 limit with the items shown above, totaling out at $168.97, but this list is meant to act as a guide. Hit up stores like Marshalls and TJ Maxx and you can find similar items at budget prices.
Some notes for the shopper:
- For a dress/skirt combo to work, you need to find a skirt that is well-lined. Pay attention to the material of the skirt and keep in mind what kind of activity you'll be doing in it -- Will you be sitting all day? Could you end up with crease marks?
- The chambray pants shown above are, in my opinion, a must-have in every working girl's closet. I bought mine about two years ago and still wear them at least once a week, but usually twice. They're not denim, so they're work-appropriate, but they're close enough to denim in appearance that you can style them as you would a pair of jeans.
- Wedges are my favorite type of shoe for work. Flats can sometimes be too casual, and heels can get uncomfortable as the day goes on. Wedges are the perfect compromise, and they are also both youthful and feminine!
Check back later this week for a few remixes of the items I chose!
xo, Kellie